By Ramon Leon - 12 October 2006 under Seaside, Smalltalk
Having had FeedBurner up for nearly a week now, and the blog for nearly three, I find it interesting seeing what people are actually reading, quite surprising as well. I assumed that most people would want to read about Seaside, or things I've done with Seaside. This is turning out not to be the case.
Out of the top 5, only one is the longer tutorial style post, the rest are mostly comments of mine on someone else's blog post, or the one short rant on enterprise development. I'm not going to change what I'm writing just yet, I'll wait a few weeks and keep an eye on what's being read, both on the feeds and on the site itself.
In the last three weeks, I've recieved the following traffic...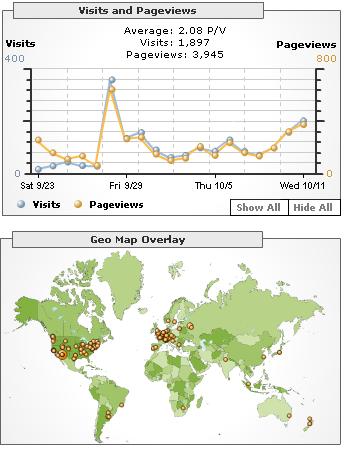 Over the last six days, I've seen the following results for the top 5 posts on the feeds...
| | | |
| --- | --- | --- |
| Article | Views | Full Article |
| Enterprise Development Suckage | 178 | 53 |
| Turtles All the Way Down | 87 | 41 |
| Seaside and Page Templates, Again | 85 | 34 |
| Seaside, Making the Impossible, Possible | 72 | 2 |
| Running Seaside, Apache, and IIS on One Machine | 39 | 14 |
I've been experimenting with titles a bit, to see the effect they have on traffic, and I wrote the Enterprise Development Suckage rant explicitly as a test to see if that title would get clicks because it seemed provocative, apparently, it did. The Seaside Apache article making the top 5 surprised me a little as well, I just wrote it last night, so maybe there are some things people still want to know about Seaside.
So it begs the question, what do people want to read? When you sit down and catch up on your daily blog posts, what kinds of posts are you hoping to find? I'm not quite sure which direction I'll take, but I'm interested in any suggestions from existing subscribers, via comments or private email, about what you'd like to see here.
Comments (automatically disabled after 1 year)